MosqiShield Version 1.0
An innovative mobile mosquito repeller installed and run on Nokia mobile phone.
The package mimics the frequency of dragonfly wing beat as well as the frequency
of male mosquito, and generates sound of low and high frequency to repel blood seeking
female mosquito from approaching the user.

Coming with MosqiShield is the ¡§Mosqi-Invader¡¨, which is a special shooting game for user
to experience killing mosquito by using insecticide.
¡@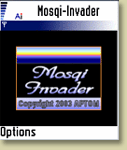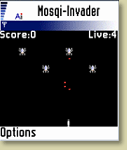 ¡@
¡@
Medex MobiRad Mobot JOS Visual CG MobiFax Finger-print Cabinet