Accex Accex Version 1.0
Accex is an accounting system suitable for small and medium size companies. Basic modules include
general ledger, account receivables, account payable and multiple currency. Accex communicates between
business processes, daily operations, accounting, finance and management. This flexible integrated system
is specially designed for health care industries. All Accex reports for operation and management can be
promptly displayed with updated details.
¡@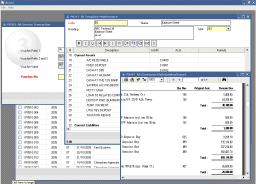 click in for image
¡@
Features of Accex
¡@
¡EMultiple financial reporting entities
¡EMulti-level and multiple profit/cost centre
¡EMultiple currencies
¡EMultiple chart sets
¡EMultiple analysis codes
¡ECustom defined periods exceeding 12
¡EMultiple budgeting
¡EReal-time input entry with immediate update of balances, sub-ledgers and account
¡EFlexible accounting control and reporting per selected control status
¡ENative interface to Medex
¡EReports can be exported to Excel or PDF format
¡EEasy to change report formatting, section ordering and grouping
¡@
¡@
Medex MobiRad Mobot MosqiShield JOS MobiFax Finger-print Cabinet Visual CG